Enjoy a safari on your doorstep!
An African safari is one of the most captivating experiences a person could have – the thrill of driving through untamed bushveld in search of Africa's wildlife and her mesmerizing beauty has captured the imagination of many a traveller from all over the world.
All of these travellers have one thing in common, they appreciate that an African safari is an ultimate bucket list experience. Even more so, if you can find a place from which to experience this ultimate adventure right from your doorstep, you have found something truly magical.
In the northernmost tip of Botswana, near Chobe National Park, such a place does exist. At Tlouwana Camp, the reality of experiencing a safari right on your doorstep is no longer a dream, but a foregone conclusion. This is a place where encountering the best Africa have to offer does not require you travelling vast distances. A place where you do not necessarily have to go in search of wildlife, but the wildlife came in search of you!
Tlouwana is a place where the sound of lions roaring is your bedtime lullaby, where your night-time visitor (across the fence) is Africa's gentle giant the elephant, and your morning alarm clock is the melody of birds chirping high up in the acacia trees. A place where the chatter of monkeys each morning proclaims the start of a new day as dawn breaks out across the bushveld and the cool morning air is accompanied by the sighting of impala, zebra and giraffe. All of this, as you slowly sip on your morning's coffee from the comfort of your classic safari tent.
Tlouwana Camp is an oasis with an assortment of wild creatures.  They all differ in shape and size, but they have one thing in common - they can all be found right on your doorstep. If you so please you can add to it a game drive in the world-renowned Chobe National Park nearby. But merely staying in camp will bring any keen wildlife enthusiast many hours of delight! A definite favourite among our guests is the raised platform in the camp.  It is situated right next to the waterhole outside the camp's fence. Here you can get up close and personal with Africa's wildlife, even at night with the light installed, but still, feel safe and secure.
During these night-time game watching experiences, you may find yourself gazing at Africa's untamed wildlife and feel yourself falling under mother nature's spell. Many of our guests report feeling a sense of wonderment. Chances are that you will be left in awe, as this paradise is a reminder that humans and animals can coexist harmoniously in close proximity to one another. For that reason alone, this place is truly quite remarkable!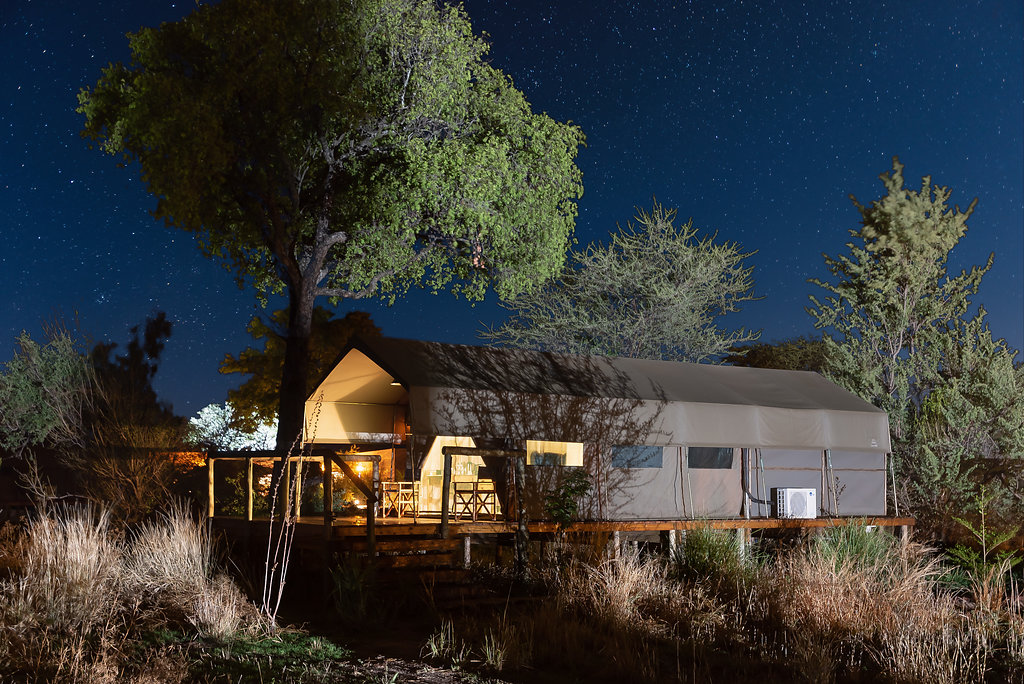 Ready for a doorstep safari of your own? Contact us for details about our all-inclusive safaris.